Brand New IrDA Infrared Drive that fits in a spare 3.5" drive bay
Your desktop PC now has a better infrared port than any notebook PC !



3.5" beige color Drive Frame


(5.25" drive frame and black 3.5" are also

available

)





Works 100% in native mode with all Windows 95, 98, ME, XP, Pro, Vista, and 7 systems... No driver needed. This is natively supported by Windows. Many consumer electronic's IR operation is only supported by native mode IR device, and not via a 3rd party USB IR adapter !

More powerful infrared signal than most notebook's built-in infrared port.

Compatible with any motherboard that has an IrDA header.

Special status LED provides visible clue to the otherwise invisible infrared operation: It blinks once every few seconds to scan for any device within range. It blinks very fast during data transfer mode. You can't tell whether any notebook's IR port is working or not.




YOU CAN NOW INSTANTLY TRANSFER DATA (files/rings tone/pictures...)
WIRELESSLY WITH:
Cellular Phones/ Pagers/ Notebooks/ Palm Pilots/ Digital Still Cameras Handheld PCs/ Barcode Scanners/ Organzier/ Pocket PCs/ Printer & Fax Scanners/ Camcorders

| | |
| --- | --- |
| | |
Add wireless data transfer capability to your PC !



---
Infrared Drive Installation Overview
Detail Factory Installation Guide

The Infrared Drive will make the IR connector (a.k.a. Infrared or IrDA connector) on your motherboard a fully functional IrDA infrared port. Simply connect the IR cable (included) to your motherboard's IR connector, enable your IrDA port in CMOS, and Windows will install the driver and application software for you automatically !


| | | | |
| --- | --- | --- | --- |
| Locate the IrDA header on the motherboard | According to the motherboard manual, connect each of the IR cable's 4 signal wires to the corresponding pin on the motherboard's IrDA header | Connect the other end of the IR cable to the Infrared Drive. | Slide & secure the Infrared Drive into an available drive bay |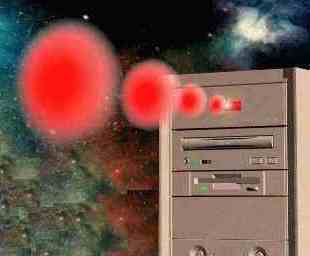 Start data transferring via IR wirelessly !




SPECIFICATIONS
The Infrared Drive is fully supported by Windows 95, Windows 98, Windows ME, Windows 2000, Windows XP, Vista, 7, and Linux (with proper Linux driver).
The Infrared Drive is supported by LapLink 7.5 under Windows 95/98. LapLink provides remote control and printing capabilities to another computer via infrared. LapLink is not a required software to operate the Infrared Drive.
There is no limit in the transfer file size.
Files transfer under total darkness or broad day light.
The maximum data transfer speed with the standard IR cable is 115.2kbps, in both directions. The maximum data transfer with the optional FIR cable is 4Mbps.
The minimum range of communication is 1 meter (or about 3 feet). When working with another desktop PC or a notebook computer, a range distance of up to 6~10 feet may be achieved.
It is tested by Intel's motherboard division for complete compatibility.
The Infrared Drive was tested and approved by Intel's motherboard division in 1997 to be compatible with its IrDA connector design. Today, most motherboard manufacturers follow Intel in equipping motherboards with an IrDA connector.
The Infrared Drive is durable:

- MTBF Greater than 512,000 Hours at an Ambient Temperature of 60oC
- Greater than 55 years under continuous operation


---
SYSTEM REQUIREMENTS
Microsoft Windows 95, Windows 98, or Windows ME operating system -- the computer must also be completely compatible with the operating system.
IBM-compatible (P166 or faster)
32MB of RAM or greater

**The Infrared Drive is 100% IrDA compatible. 
Unlike many USB IrDA adapters that may not work with certain Polar models, or cetain cell phones, or does not work with certain operating systems, the Infrared Drive works with ALL IrDA devices and under ALL Microsoft operating systems from 98 on.
This Kit does not come with the following:
Retail shrink-wrap package
Software driver disk ( download only )
Warranty card (no factory direct RMA support)
NO MORE CABLES , NO MORE DISK

No More Taking Memory Card in and out !
---
Business Hours: Monday-Friday 9am-5pm Pacific Time.
We are closed on weekends and national holidays.
- Paypal & All Major Credit Cards Accepted -

---
We ship daily from our

smoke

-free

building

except UPS & national holidays. 99% of orders received in the morning Pacific Standard Time are shipped out the same business day. If you intend to fund your Paypal payment through e-check, please be advised that

Paypal

will take many days, and sometimes more than one week, to process and clear

your payment.
Hawaii, Alaska, APO/FPO, and Puerto Rico customers -- We can ship by US Postal Service only.




---